Triple Trouble! Meerkat pup trio born at Dubbo Zoo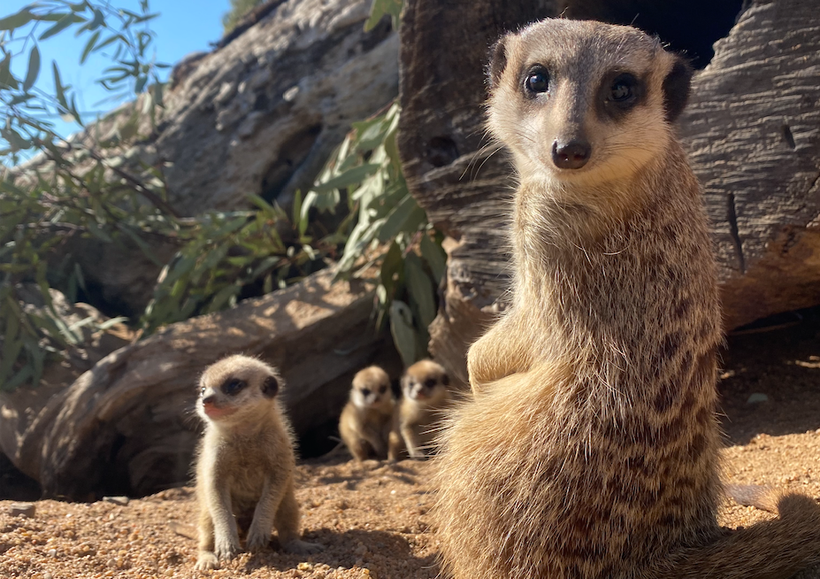 Three cheeky little Meerkat pups have just emerged from their den following their birth at Taronga Western Plains Zoo in Dubbo, New South Wales.
This is the second litter for Midra and Howell, having welcomed five pups in late November 2020. Keepers are delighted to introduce the new litter which includes one male and two females which are yet to be named.
"The pups generally stay in the den for the first couple of weeks of life until they open their eyes and get stronger," Meerkat Keeper, Karen James said.
"The trio has only recently emerged from the den and we are really happy with how they are growing and developing."
Keepers say the five older siblings play a very important role in helping to babysit and care for the new pups. Whilst they rely on mum for milk for now, they will start trying solid food at around four weeks of age.
"At six weeks of age the Meerkat pups will have their first of three vaccinations and we will conduct a quick physical examination at the same time," said Karen.
"We are looking forward to watching the pups grow both in size and confidence as they start to explore their habitat more and more."
The Zoo is temporarily closed due to COVID-19 however will provide regular updates on the new arrivals through its social media channels.
"No doubt when the Zoo does reopen a visit to see the Meerkats will be high on the list of things to do, as they don't stay little for long," said Karen.
For more information visit www.taronga.org.au/dubbo